Toad has so many features and RDBMS' have so many objects it can sometimes be difficult to mesh them together to accomplish the tasks at hand. Wouldn't it be great if there were ways to have these organized in the way you need vs the way the tool or database does? Toad has several features to let you setup and organize the pieces of information that you need to organize yourself to accomplish the various tasks, projects and re-occurring jobs that you need to perform.
First, the simplest one is filtering and sorting the database objects into folders, grouping them together in your organized manner, not the databases. Within the Schema Browser there is a Favorites object type. This is where you can put objects of different types together into folders based on your needs.
Second, to organize things within the database and all the files littered around your office's servers can be organized using the Project Manager. The Project Manager is a place where you can have multiple projects with multiple folders with multiple items in it. All accessible from a slide out window on your Toad desktop (open it from the View menu).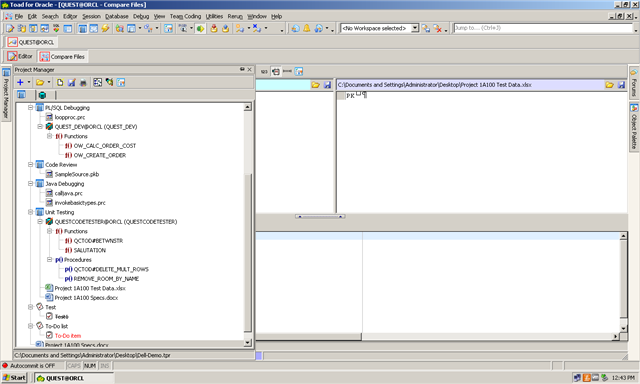 You can link almost anything into the Project Manager, from within the database or from a Windows/Unix folder. You can setup tasks, link to URLs and have them execute within a Toad wizard or startup in context the appropriate application like Word or Excel.
Now you can take advantage of this (maybe new to you) feature to further enhance how Toad speeds up and compliments your skills to accomplish the day-to-day tasks as well as those multiple projects that you are juggling.
Check out how our Toad database management tool can enhance DBA skills no matter what database flavor.