It's Valentine's Day, and power couples everywhere are celebrating.
Have you noticed how the biggest power couples share the love by dedicating themselves to a worthy cause? Mark and Priscilla focus on human potential and equality. Beyoncé and Jay-Z are behind scholarships and social issues. George and Amal work on humanitarian issues. David and Victoria are champions for kids. Ellen and Portia step up for animals. Even Frank and Claire are working for more efficient government, in their own way.
At Quest®, our power couple is Toad Development Suite for Oracle and Toad™ Intelligence Central. Their close working relationship is dedicated to agile database development, which is certainly a worthy cause if you're a database developer.
I posted last month when we released a tech brief called Enabling Agile Database Development with Toad – Part 2, covering Intelligence Central and Toad Development Suite. This month we're releasing Enabling Agile Database Development with Toad — Part 3, the final chapter in our series. It's a Valentine's Day gift that Toad Development Suite for Oracle and Toad Intelligence Central want to share with you.
Toad Intelligence Central setup
The tech brief includes a Toad Intelligence Central setup guide. Once you see how straightforward installation is, you can dive into the three functional areas that get in the way of agile database development:
1. Maintaining coding standards
You can deliver higher quality code faster as a team when you code similarly as a team. Toad Intelligence Central applies Rule Sets to analyze the code you and your fellow developers write in Toad for Oracle. By storing and sharing rules, Intelligence Central shows its love for Toad by allowing you to apply the same standards across the team. Intelligence Central also applies consistent formatting to everyone's code to make it easier to read. Templates ensure that new PL/SQL objects use your organization's preferred set of standard code constructs.
2. Hosting and executing automated tasks and reports
Can anything slow you down more than manual tasks? In fact, just thinking about how long you've wished you could automate them is enough to slow you down. Storing and executing automations for frequent or repetitive tasks is the gift that keeps on giving from our power couple.
When you've saved your PL/SQL Unit Tests or Test Suites to Intelligence Central, you can easily select and apply them from Toad and send the output from their automated execution to a file of your choice.
The same goes for PL/SQL code reviews, whether from the Windows file system or from the Oracle database. Reviewing code is important, but most database developers don't enjoy doing it manually. From Toad, you can select the Code Analysis Rule Set to retrieve from Intelligence Central and specify whether to add a SQL Scan to the code review.
And automated reporting on code quality is the probably one of the best Valentine's Day gifts of all for management. It would be almost impossible to quantify or summarize your code quality in a single dashboard like the one below. But Intelligence Central gives you all that insight based on PL/SQL unit tests, code reviews and events from Team Coding.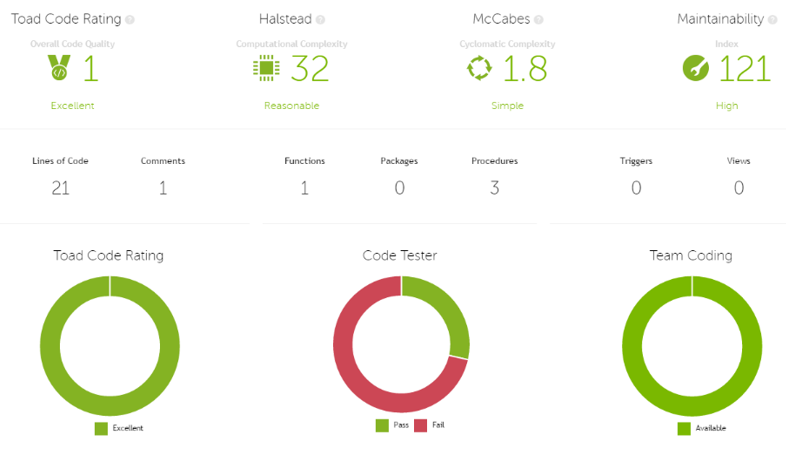 3. Calling tasks from a continuous integration (CI) server
Another big leap toward agile database development comes from hosting your automated build process on a CI server, such as Jenkins, Hudson, Bamboo or Team City. As part of that automated build, you can call PL/SQL unit tests and code reviews from your CI server and execute them through Toad Intelligence Central.
New tech brief: Enabling Agile Database Development with Toad – Part 3
So the happy power couple of Toad Development Suite for Oracle and Toad Intelligence Central brings you our new tech brief, Enabling Agile Database Development with Toad – Part 3. We've designed the brief to make it easy for you to implement Toad Intelligence Central and start chipping away at the biggest obstacles in the way of agile database development.
Are you already running Toad Development Suite? If so, go straight to the download page for Toad Intelligence Central (Community Edition), which is free of charge. See what our power couple can do for the worthy cause of agile database development in your organization.