Once upon a time, there lived a great king, some would say the king of all DBAs. Every evening, he retired to his castle where he enjoyed long, blissful nights of uninterrupted slumber. He awoke at his leisure, well-rested and ready to rule his domain.
Meanwhile, other DBAs toiled in the trenches. They battled frustrated users, sparred with finger-pointing developers and collapsed in exhaustion after long workdays – only to bolt upright at 3 a.m. to fight fire-breathing database dragons that scorched SQL Server performance overnight.
The monarch of monitoring
What was the king's secret, they wondered? And how could they, too, become legendary DBAs?
Like any successful ruler, the king had an army of help, fighting his battles with the sharpest of swords and the strongest of shields. The king had Spotlight® on SQL Server.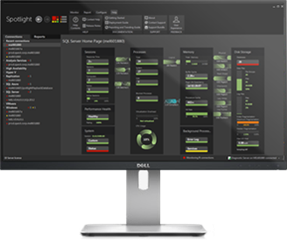 Rule your database dynasty with Spotlight
Spotlight is the holy grail of database management toolsets, providing SQL Server monitoring on the go. It will empower you to rise through the noble ranks, so you can reign supreme – anywhere, anytime, from any device.
Powered by Microsoft® Azure®, the Spotlight mobile app, available from Spotlight Essentials, provides 24x7 monitoring and diagnostics from wherever you are. And, Spotlight gives you a whole new perspective, the vision to see into the past, the present and even the future.
Spotlight stops SQL Server skirmishes while you sleep
Spotlight is your issue-resolution infantry. From the comfort of your castle, you can finally rest easy with newfound peace of mind.
Spotlight works around the clock to make you look like the prince of performance improvements. That's because Spotlight:
Notices issues well before your customers ever could, and sends performance monitoring app alerts, so you can resolve threats proactively.
Lets you rewind to a point in time, so you can recreate a situation and see exactly how the issue occurred.
Helps you identify the real root issue – not just the symptoms – so you can apply fixes that stand the test of time.
Ready to live happily ever after?
Download your free, 30-day trial of Spotlight on SQL Server today to claim your crown and command peak performance in your database realm. And stay tuned for our next installment to see how Spotlight can expand your reach with a consistent toolset for hybrid monitoring of both your on-premises and cloud environments.