In Spotlight 11.7, the reports repository gets a major boost!
The list of current robust reports is being enhanced by the introduction of 23 new reports. These new reports were the result of converting application display views which were very limited in their capability. In comparison to display views, Spotlight reports are designed in SQL Server Report Definition Language (RDL) format. As a result, in addition to providing the capability of accessing them in Spotlight, these files can be opened, customized, and published using SSRS. Additionally, some reports facilitate reporting across multiple connections for a more comprehensive analytical review of data.
The following is the list of the new reports:
All SQL Agent Jobs Report
Custom Counters Report
Database Setting Report
Failed SQL Agent Jobs Report
SQL Server Blocking Report
SQL Analysis Workload Report
SQL Server General Statistics Report
SQL Server Health Database Files Report
SQL Server Health Table Summary Report
SQL Server Index Summary Report
SQL Server Job Duration Report
SQL Server Keyed Metric Report
SQL Server Large Databases Report
SQL Server Metric Report
SQL Server Redundant and Revers Indexes Report
SQL Server Tables Missing Clustered Indexes or Primary Keys Report
SQL Server Transaction Single Day Summary Report
SQL Server Wait Statistics Report
Windows Configuration Report
Windows General Statistics Report
Windows Hardware Configuration Report
Windows Keyed Metric Report
Windows Metric Report
In the Example below in SQL Server Large Databases Report, multiple connections have been selected from the Connection Name pick list: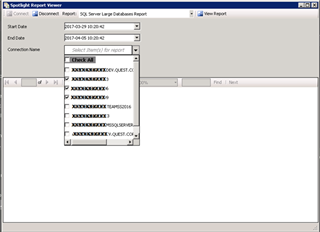 Report results show outcome of selected connections: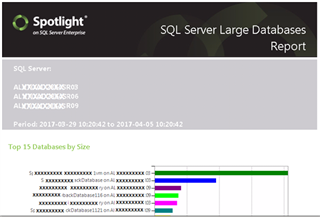 For details on these reports, refer to Spotlight Reporting and Trending Guide.
Download the latest version of Spotlight from here or reach us on Twitter.