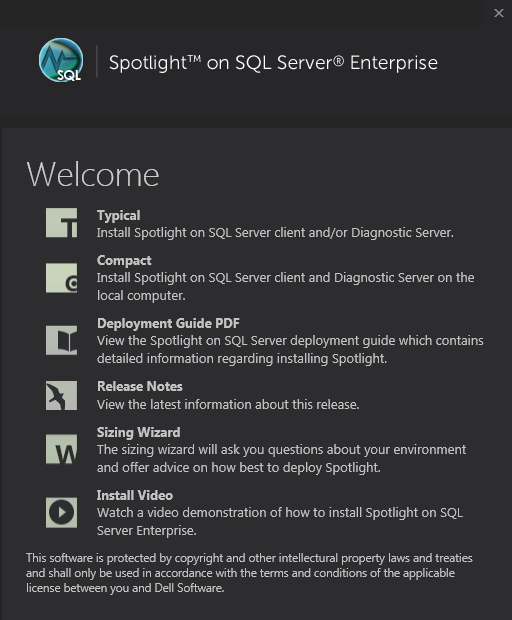 To take advantage of latest features of Spotlight an upgrade might be a step that has been considered, discussed, and perhaps deferred within your organization. However, in order to realize the full and robust potential of what Spotlight can deliver, it might undoubtedly be inevitable.
The Spotlight upgrade process is seamless and automatically preserves connections and configuration settings during the process. Use the Spotlight installer to upgrade from version 10.0 or later to the latest version. An exception to this approach is if your current release is specifically version 10.5.0. In such instances, the first step is to upgrade to version 10.5.2 before upgrading to the latest available version. To upgrade from a version previous to 10.0, first upgrade to at least version 10.0 before upgrading to a current release.
The following are recommended steps during a Spotlight upgrade process:
Backup Spotlight Data
Spotlight Diagnostic Server installation folder
Back up the Diagnostic Server\Agent folder. By default it is: C:\Program Files\<Dell or Quest Software>\Diagnostic Server\Agent
Backup the Playback Database. The Playback Database is deployed on SQL Server. This backup procedure is the same as for any other SQL Server database.
Spotlight Statistics Repository
If a Spotlight Statistics Repository Database is deployed in your environment then back it up as well. The Spotlight Statistics Repository is deployed on SQL Server. This backup procedure is the same as for any other SQL Server database.
Upgrade Spotlight Diagnostic Server
On each Spotlight Diagnostic Server machine, run the Spotlight on SQL Server Installer executable file to upgrade Diagnostic Server and Client.
Following the upgrade of the Spotlight Diagnostic Server, the Playback Database and Spotlight Statistics Repository are automatically upgraded the next time they are accessed by the Spotlight Diagnostic Server.
Upgrade Spotlight Clients
If your enterprise has multiple Spotlight Clients installed, then ensure all Spotlight Clients are included in the upgrade process. Spotlight Client and Spotlight Diagnostic Server must have the same versions. The more compact MSI installer file can be used to upgrade Spotlight Clients.
On each Spotlight Client machine, run the Spotlight on SQL Server installer executable EXE or MSI file in order to upgrade Spotlight Client.
As mentioned earlier, in case your current Spotlight version is lower than 10.0, there's an important factor to consider when planning your upgrade. In order to retain your connections and configuration settings, you must upgrade amongst version incrementally. An example of the incremental approach is upgrading from version 7.0 to 7.6 to 8.1 to 8.5.1 to 9.0 to 9.5 to 10.5.2.
The upgrade steps outlined above should serve as a useful guide during each upgrade. After each upgrade, an important validation step should be to open Spotlight Client and ensure it can connect to the Diagnostic Server and all preserved connections and configuration settings have been preserved before moving on to the next upgrade version.
Download installer files of our latest and previous versions.