I posted a week or so ago about the Quest product Toad for DB2 z/OS. My point was that Toad gives people great ways to lessen the impact of suddenly being asked to support, administer, or access DB2 objects on the mainframe - even if they have no experience with the mainframe (or with DB2).
In this post, I'd like to clarify why mainframe tools are important by sharing some thoughts and links that help illustrate that the mainframe is alive and well, and so is DB2 z/OS.
IBM is still selling mainframes
Shortly after selling its x86 server business to Lenovo, IBM introduced the z13. Take a look: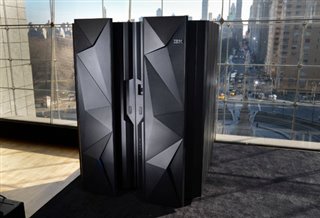 This thing looks like something out of a Batman movie, I think. It is a mainframe computer system, though. And the hopes that IBM placed in it are huge, dare I say, superhero-esque. IBM spent $1 billion and five years designing the system. This mainframe is compact - as small as most mini computers I remember just a few years ago - but it packs a punch. It's the most powerful mainframe around, and it's built to easily chew up and spit out the flood of transactions made from mobile devices.
The z13 can process 2.5 billion transactions per day, offering both real-time encryption and embedded analytics. Read about it here: https://www.fool.com/investing/general/2015/01/24/heres-why-ibm-is-still-building-mainframes.aspx. This article also talks about how some large companies have saved money by going with mainframes over sprawling server farms. The fact is, for many companies and some very important business requirements, the mainframe is the most powerful and secure server for storing data and keep it available for business use.
IBM, among others, keeps making moves that help companies make the most of their mainframe investment and legacy applications
For example, in 2016, IBM acquired EZSource, software that helps developers quickly dig into complex mainframe application code, interpret it, and alter it for the business. It should help developers write applications that take advantage of IBM's technologies for running OLAP workloads, and that should increase IBM's mainframe revenue (and, they expect, their cloud revenue).
The volume of mainframe applications out there is still pretty amazing
According to the 2016 mainframe usage survey conducted by BMC Software, a survey that's conducted annually and eagerly anticipated by industry professionals, there were three distinct groups when it came to attitudes to mainframes: 58% planned to increase the use of mainframes, 23% planned to continue steady use and 19% were looking to reduce the use of mainframes.
89% of the respondents saw a long-term role for the mainframe, saying they depended on it because of superior reliability, performance and security.
Summary
The mainframe is here to stay, and IBM and others are making sure it's an even more attractive, cost-effective platform for businesses. The growth of mainframe use in many companies, and staff turnover as mainframe professionals retire, mean that someone in those organizations needs to become a mainframer to help the organization continue to benefit from past investments. Software tools help people new to the platform make use of the plethora of data on the mainframe.
Quest Software provides tools that will help you manage and use valuable mainframe data for analytics and decision-making. Consider Toad products for your solution to unlock data on that treasure chest, the mainframe:
Please watch for more of my blog posts right here as I take you through the features of Toad for DB2 and Toad Data Point