Established over 13 years ago, with more than 5,000 customers and 149 million users audited.
So it comes as no surprise that Quest® Change Auditor is a People's Choice Stevie® Award winner.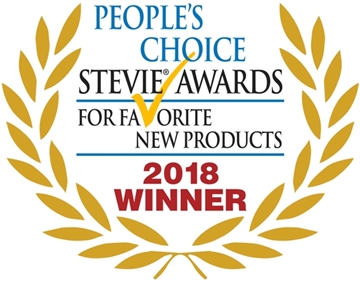 The People's Choice Stevie® Awards for Favorite New Products are a feature of The American Business Awards®, in which the general public can vote for their favorite new products and services of the year. The American Business Awards are the nation's premier business awards program. More than 58,000 votes were cast in 48 people's choice categories this year. All new products and services submitted to the ABAs' new product categories were included in people's choice voting.
So why do customers love Change Auditor?
Well, I interviewed a few of our Quest experts who not only talk to our customers daily but have lived a day in the life of a system admin. They've been where you are. Read what they have to say.
Gwen Allen, Sr. Systems Consultant:
Prior to Quest, Gwen was not only a systems administrator but was an IT manager at one point. Her team of four engineers, with quite a bit of responsibility, managed Active Directory, Exchange and SharePoint. She was brought in at the beginning of a migration from Novell to Windows and a hardware refresh — at the same time! "We were constantly busy and life was stressful. I used to get phone calls in the middle of the night!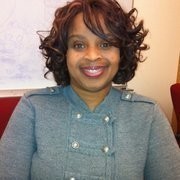 For customers, Change Auditor:
Makes life easier – No more reading through cryptic log files. "Change Auditor tells you what you need to know when you're trying to find out what happened (and not that extra fluff)," says Gwen. Change Auditor's easy-to-understand events tell you who changed it, what was changed, when it changed, where it was changed from, and the workstation at which the change happened. You can do a search on very simple terms and bring back meaningful data across your enterprise.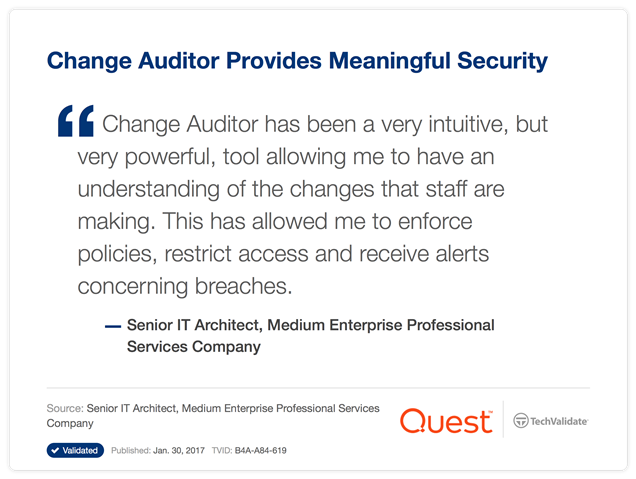 Automates audits and delivery — Admins are consistently asked to pull the same type of information from different departments (finance, HR, compliance, auditors, CIO and so on). Change Auditor saves admins time by creating automated audits and reports that are easily delivered via email (or another method of choice). Gwen says this "allows the administrator to be proactive in providing their department heads the information they need, without asking for it."
Alerts on major events — "You're inundated with logs and it's extremely difficult to find that needle in a haystack," says Gwen. There are few events that are critical and could be indicative of a potential security problem or breach. Change Auditor alerts you to major events, so you don't have to be on constant watch.
*Did you know? Nearly a third (31 percent) of organizations ignore at least half of their security alerts, according to an Enterprise Strategy Group (ESG) report, and the Cisco 2017 Annual Cybersecurity Report found that 44 percent of all alerts go unexplored.
Peter Vigliano, Solutions Consultant:
Prior to Quest, Peter worked for a managed service provider that supported mostly medical and manufacturing clients that had a lot of issues with data access and data mismanagement. "We were always chasing something down," Peter says. "Manufacturers generate oceans of data with R&D, data assurance, and really just tons of data. All the time, we were having to figure out what happened when something went wrong, and understanding access was critical."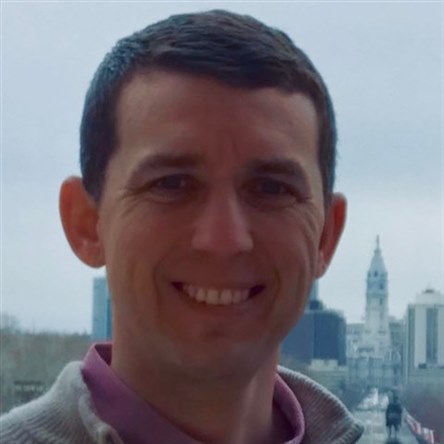 "OMG I wish I had this thing!" - Peter Vigliano, Solutions Consultant, Quest
With Change Auditor, you can:
Correlate events — "When you're supporting a large environment with multiple administrators, there's always an accountability factor, but really you need to be able to correlate the issue," Peter says. You need to understand what ultimately led to someone being locked out or unable to access their applications. "Whether native tools or other third-party competitors, it's still not fun and very difficult to understand what occurred. Change Auditor gives you, in plain terms, what was changed and from what system. There's no finger pointing," Peter says. You can determine if the modification was created from an application touching the directory or an actual user.
See file changes — Depending on the group of users you're supporting, file changes (such as misplacement, changes and deletions) can constitute 60 percent of help desk tickets, which was the case for Peter. "Data mismanagement, it's brutal". Change Auditor for Windows File Server easily shows administrators what happened to files, reducing the time it takes to respond to help desk tickets, and giving you back time to do other things
*Did you know?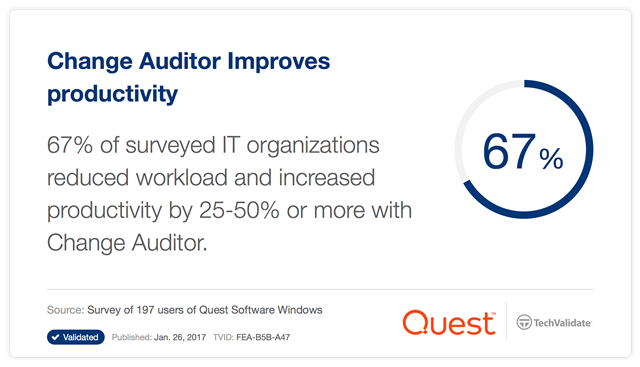 Get lockout information — 90 percent of customers that Peter talks with come to us for user lockout information. "It's a big purchase driver and use". Change Auditor for Active Directory shows you what server processed the request and the denial of service that occurred — and it will also show the network attached device (origin value).
Brian Hymer, Sr. Solutions Architect:
Brian has worked for Quest for over 18 years and has talked to a large number of customers. "Back when I started with Quest, we didn't have Sarbanes-Oxley, HIPAA and PCI regulations baring down on an IT department. These regulations have evolved, are elaborate, and the consequences for not adhering are very serious, so it's critical to have processes and solutions in place that help you meet those regulations," Brian says.

For customers, Change Auditor:
Deploys easily — "Customers are blown away when I tell them how easy this is to deploy," Brian says. "Change Auditor for Active Directory would take two hours. Just install the software, deploy agents to your DCs and you're done. It's going to start sending back data right away!"
Fills the gaps of native tools — Change Auditor provides additional information that you can't get natively. "For example, if I were to add Austin to a group, natively, I'd just see that the group changed, that's it. But with Change Auditor, you can actually see who was added, who did the adding, from where, and so on, which enriches the data, so it's more meaningful," Brian says. Another example is Group Policy objects (GPOs). With native tools and scripting, if a GPO was modified, you wouldn't know which of the hundreds of settings were changed and what value they now hold.
Consolidates tons of audit information — Organizations often need to watch user and admin activity across multiple Microsoft and non-Microsoft environments, such as Active Directory, File Servers, Exchange, SQL and Office 365. You don't have to go to multiple consoles to look for audit information. Change Auditor brings together all user and admin audit activity from over 14 platforms/applications, based on what you choose, all together in a single console. With this consolidation, you can search through it all quickly and easily without wasting a lot of time.Today, most customers have deployed some Office 365 workloads and now manage a hybrid environment. Change Auditor provides the ability to audit their on-premises data and cloud-based data and resources in one place.
*Did you know? Change Auditor comes with our Google-like looking glass application called IT Security Search at no additional cost. It's a powerful tool that doesn't just show the event data; you can grab static data as well from other Quest solutions, like Enterprise Reporter and Active Roles, so you're able to search a mass of information from one place.
Change Auditor continues to innovate
As I mentioned previously, Change Auditor has been around for some time and has quite a customer fan base. And the Quest R&D and Product Management teams continue to innovate and invest in Change Auditor each year. Check out what product innovations occurred in 2017 that also earned Change Auditor a Silver Stevie® Award in the New Product of the Year category. More than 3,700 nominations were submitted to this year's American Business Awards for consideration in a wide range of categories, including New Product or Service of the Year, Most Innovative Company of the Year, Management Team of the Year, Best New Product or Service of the Year, Corporate Social Responsibility Program of the Year and Startup of the Year, among others.
Thank you again
We thank all of our customers, partners and fans who voted for Change Auditor to win this year's People's Choice Stevie® Award, and we also are thankful to our Change Auditor customer base who continue to support and partner with Quest over the years.
Oh! And before I forget, Change Auditor was one of three Quest solutions to be named Stevie® Award Winners; the others were Quest On Demand and Enterprise Reporter Suite. Enterprise Reporter is a very complementary solution to Change Auditor. If you have to audit changes your users are making, don't you want to report on what they have access to? Who can do what? That's what Enterprise Reporter helps customers do. Read this blog to find out why customers love Enterprise Reporter Suite.