Imagine a world where your system administrator provisions a fully functional Linux server that's patched with all the up-to-date kernel parameters, device drivers and configurations in just one hour.
Come on. For real?
Yep. Now imagine this: From the time you make the request to the time you get access to a server with a fully configured Red Hat 6/7 or Oracle Linux 6/7 environment is within just a couple hours.
Stop. That's crazy.
Hold on. It gets better. On top of all this, the build is consistent and reliable every time.
Every time? How is any of this possible?
Every. Time. It's not only possible, but it's also surprisingly simple with guidance from Oracle ACE Charles Kim. Charles is the world-renowned brainiac who wrote the book on virtualizing Oracle databases. In fact, he'll be signing copies of that book, "Virtualize Oracle Business Critical Databases" in our booth at Oracle OpenWorld.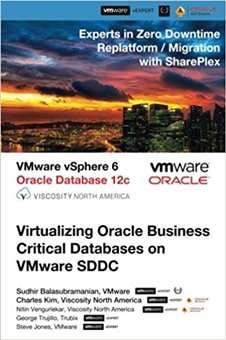 That's cool. I could use a little help with this.
You're not alone. It's on everyone's short-term roadmap – if it's not already in progress. So getting some straight-forward advice from an Oracle ACE will definitely set you up for success. Can't wait? No problem. Grab a copy of the book to get a single source of information on the benefits of virtualization along with guidance to effectively deploy Oracle databases on VMware's SDDC platform.
You don't have any upcoming webcasts on this, do you?
Funny you should ask. You actually don't have to wait for OOW to hear from Charles. He has a webcast coming up on Wednesday, September 27 at 10:00 a.m. PT. You'll get to learn about the top five considerations for moving your databases to the cloud.
I'm in for the webcast and the book signing!
Sweet. Go ahead and reserve your place for the webcast. Then, get ready to meet the man, the myth, the legend himself – Oracle ACE Charles Kim – at OOW in booth 5401. His book signing starts at 11 a.m. on Tuesday, October 3. You'll also get the chance to win plenty of cool prizes and learn how SharePlex® eliminates the stress and risk of Oracle database migrations. We can't wait to see you at OOW!
Book Signing
Virtualize Oracle Business Critical Databases: Database Infrastructure As A Service
Tuesday, October 3rd | Booth #5401 at 11am