Teams was launched in November 2016 - which in IT years seems like a lifetime away! However, it's taken most of us quite some time to wrap our heads around using Microsoft Teams and creating the perfect business case for it. I still consider Teams the gateway drug that leads to the consumption of other Office 365 Apps. And of course, I mean that in a good way.
In Microsoft's words, "Microsoft Teams is the chat-based workspace in Office 365 that integrates all the people, content, and tools your team needs to be more engaged and effective." For those new to the concept, I'll start with giving an overview of what Microsoft Teams is with an explanation of the different features and functions, and then supply you with some tips on how to make this the platform to boost your team's productivity.
How to Access Teams
Microsoft Teams runs on Windows, Mac, Android, iOS and web platforms. For first time use, navigate to https://www.office.com and click on Teams.

Note: Additional functionality has been added to Teams which is covered in Part 2 of this post – "How to Customize Microsoft Teams: Putting the Team Back in Teamwork. Critical settings, features and functionality related to securing your Teams environment is covered in this post - "Microsoft Teams Security: A Primer on How To Secure Microsoft Teams".
Teams will now open on the web platform. Click on "Download" in the top right corner to download the Desktop App:

The web app for Teams has all the functionality, but I do prefer accessing the app straight from my desktop, without navigating to a website.
A recent update allows for SSO (Single Sign On), which will use the cached credentials from your PC. You should only have to sign in once after download.
In Teams you will see 'buttons' on the left which allows you to navigate between the different functions / features: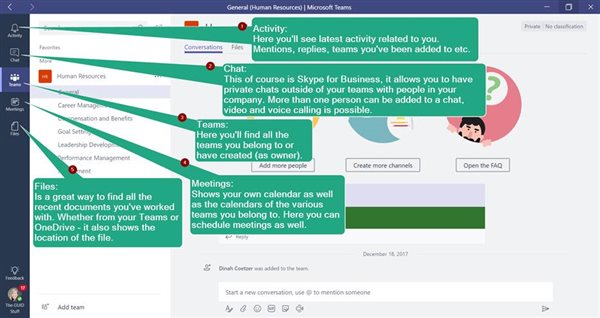 Navigation
1. Activity:
Here you'll see latest activity related to you. Mentions, Replies, Teams you've been added to, etc.
2. Chat:
This of course is Skype for Business, it allows you to have private chats outside of your Teams with people in your company. More than one person can be added to a chat, and options for video and voice calling are both available.
3. Teams:
Here you'll find all the Teams you belong to or have created (as owner).
4. Meetings:
Shows your own calendar as well as the calendars of the various Teams you belong to. Here you can schedule meetings as well. .
5. Activity:
Here you'll see latest activity related to you. Mentions, Replies, Teams you've been added to, etc.
6. Files:
A great way to find all the recent documents you've worked with. Whether from your Teams or OneDrive, it will show the location of the files.
A great way to find all the recent documents you've worked with. Whether from your Teams or OneDrive, it will show the location of the files.
Chat
Under Chats you'll have the ability to search for Messages, People and Files. You'll also notice the T-Bot. You might underestimate him at first, but this 'Clippy-version' for Teams has a lot to offer.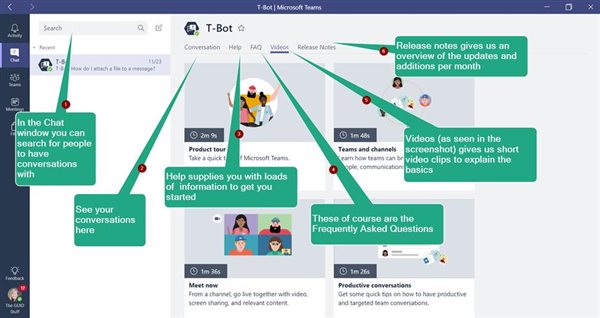 1. Search:
Search for Messages, People and Files. In this section of Teams, you will be able to have private chats (not linked to a Team) and get all the help you need. While in a private chat with someone, you can start a video or audio call and also add other people to the chat:

2. Conversation:
Conversation will show your conversations, this is where you can ask the T-Bot for help. You'll be surprised at how fast it replies to your questions: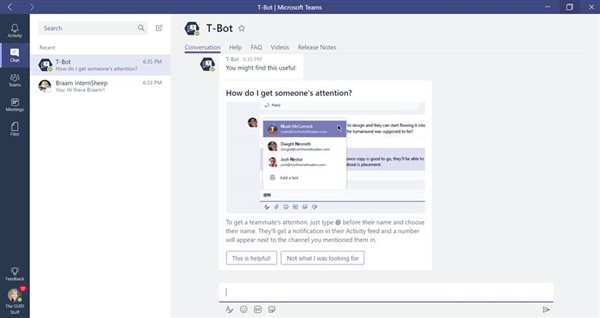 3. Help:
Help gives loads of information about Teams for Desktop and Mobile Apps:

4. FAQ:
The Frequently Asked Questions supplies you with a list of the questions asked most by users:

5. Videos:
I absolutely love this feature. These short video clips will help any user understand Teams, faster. Click on a video to explore:
When selecting a video, the list of videos available will show on the right: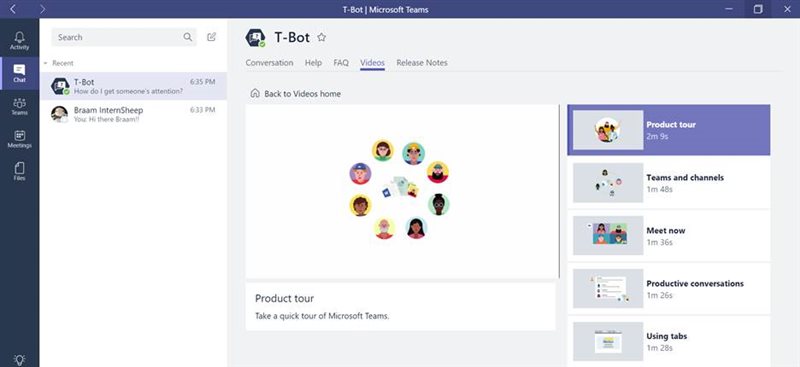 6. Release Notes:
What a great feature to keep you up to date. The release notes show latest updates, as well as updates for previous months. Keep your eye on this and stay informed on how Microsoft Teams is growing to be the choice platform for collaboration.

Teams
Now this is where the real magic happens: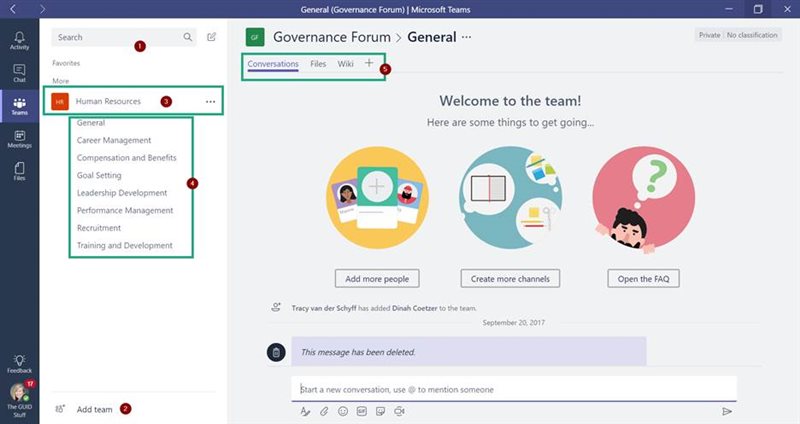 1. Search
Search for Messages, People and Files and filter by All, This Team or This Channel.
2. Add a Team
Based on your permissions (settings on the tenant), you can create new Teams here. Teams can now be created for external access as well by activating Guest Access in the Admin Center.
3. Name of the Team
When clicking on this section it collapses your channels under your team. A Team is created with a General channel by default. Keep in mind that members added to Teams will have contribution access to everything in the team (files and conversations), which includes the channels.
4. Channels
As explained, the General channel is added by default. You can now add your own channels to suit your team. Keep in mind that the channels added also creates folders in your document library (which sits on SharePoint). Channels are used to 'separate' content and conversations which will help you focus on specific topics or areas in your Team.
5. Tabs
The following Tabs are added by default:
Conversations
Files
Wiki
Conversations is your Skype for Business conversations, 'grouped' by channel. Files is the link to the document library which sits on SharePoint. As mentioned, each channel creates a folder in that library. The Files tab on the channel is therefore the view into that specific folder in the SharePoint library. Wiki is a smart text editor (think Wiki pages on SharePoint). Personally, I remove the Wiki tab and add OneNote so I can access the OneNote in my Desktop app offline. Changes made will update as soon as I'm online again.
You can add your own tabs per channel based on the apps and websites you work with.
Tips to make the most of your Microsoft Teams
Manage your Team
Changes can be made to your team by clicking on the ellipses (…) next to the team name. Here you'll be able to:
Manage Team
Add Channel
Add Members
Leave the Team
Edit the Team
Get link to Team
Delete the Team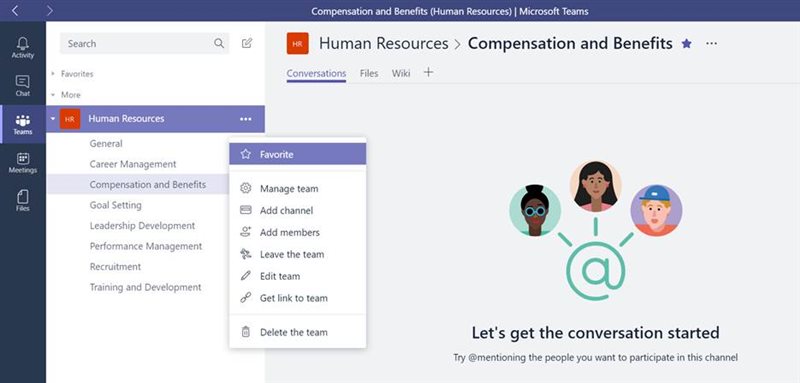 Keep in mind that when adding Team members, there is no such thing as read-only access. All your Team members will have 'Member" access. A Team member can be changed to "Owner" which then allows permission to manage Team members as well:

Create Channels
To define my channels, I always think about how I would like to group my emails files or skype messages. The channels also create the folders in the document library, so keep this in mind when planning.
Here you'll see the channels under your Microsoft Team:

These are the folders in the document library on SharePoint which sits behind your "File" tab in your Teams channels. You'll notice that there is a folder for each channel you have created. When attaching documents to "Conversations" in your Team, it will be stored in the folder for that channel automatically.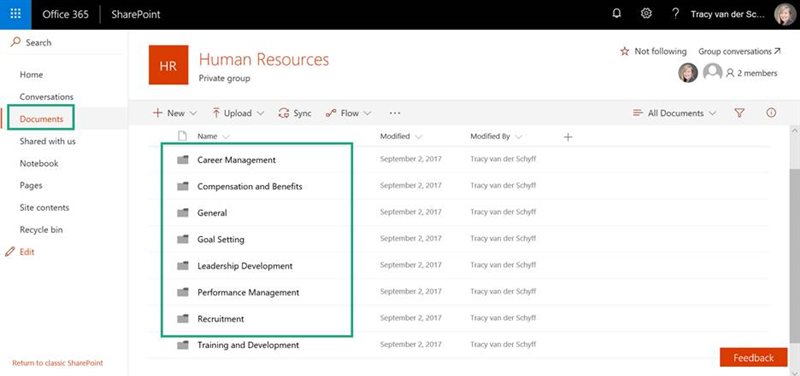 Using Sub-folders in Channels
As explained, when attaching a document on a conversation, the document will be stored in the relevant channel's folder on SharePoint. It's important to note that it will store it in the root folder for that channel. For example: Human Resources > General.
In this example I've created a sub-folder under General called "Sub-folder in channel".

If you want documents to be stored in the sub-folder, best practice would be to load it in the correct folder first, and then share the document on the conversation:
Click on attach in the conversation
Browse Teams and Channels
Open the (sub) folder
Select the document

Email a Channel
One of the benefits of Teams is that you'll send fewer emails to people you already work with. Use the Team to communicate and share files rather than sending emails. However, sometimes it's still necessary to send emails to external parties, the ability to keep your Team in the loop without sending them emails really helps. Get the email address to the channel by clicking on the ellipses > Get email address. When sending the email – simply cc the Team channel and the email will appear in the conversations for that channel.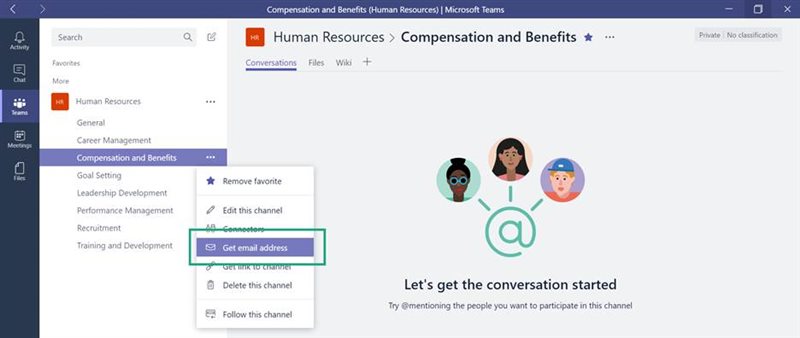 This is how the email will appear in the cc'd channel under Conversations: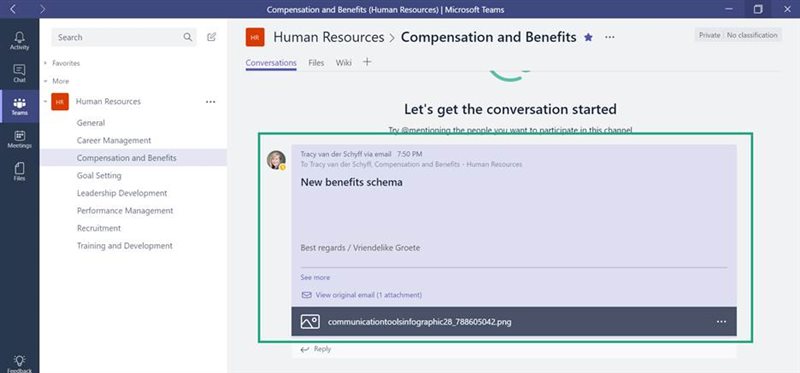 Any attachments on the email will automatically be saved in that channel's folder in the document library (File) under "Email Attachments".

Get the Attention You Deserve
Conversations in the different channels are open to everyone in the Team. Normal conversations will not 'pop up' as a notification on your PC: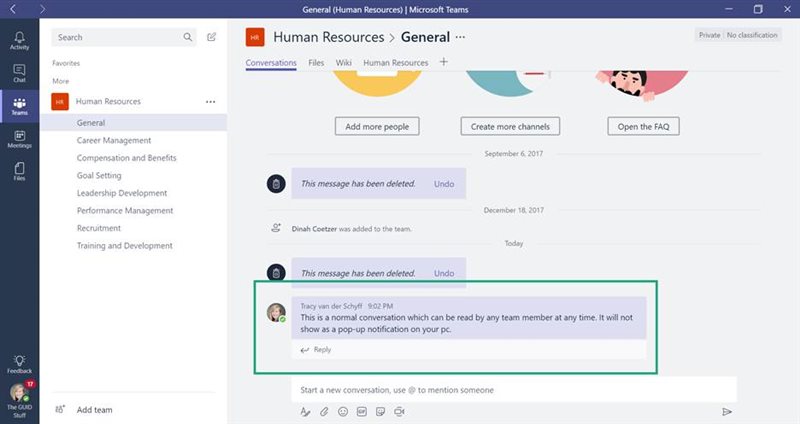 Mark Messages as Important
Use the "Compose Box" to edit your text messages. When a message is marked as important using the "exclamation," it will appear with a red important flag in the conversation thread. The message will still not pop up as a notification on the PC: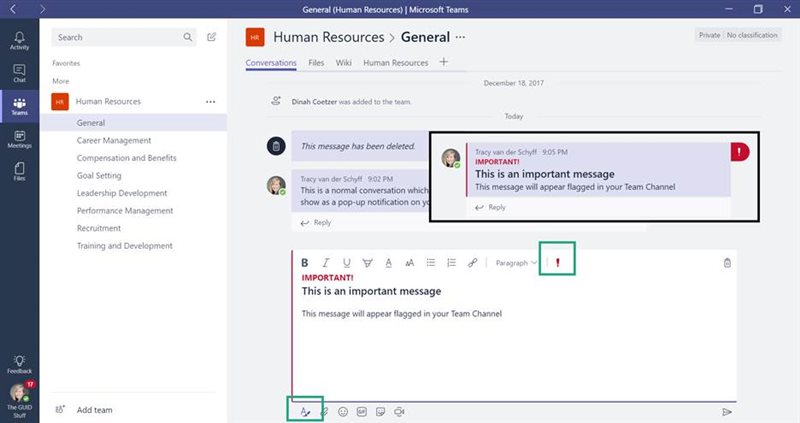 Notification of Important message on your channel:

@Mention a Team Member
Using the @mention allows you to get the attention of a member. The message is still visible to everyone on the Team, but will only pop up on the mentioned person's pc. You can also @mention the Team (the Team creates an Office 365 group which can be cc'd and mailed, like a distribution list):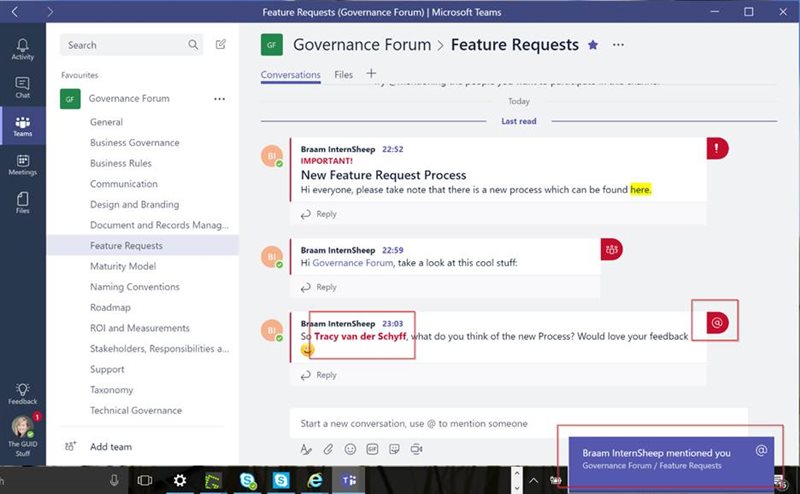 Add Tabs to Your Channels
Tabs lets us bring together the apps, services, files and website that we use every day. Different tabs can be added per channel, allowing you to focus the tools used per channel. The settings in your Admin Center will dictate which apps / services the users can add. Click on the "+" next to the existing tabs to add a new tab: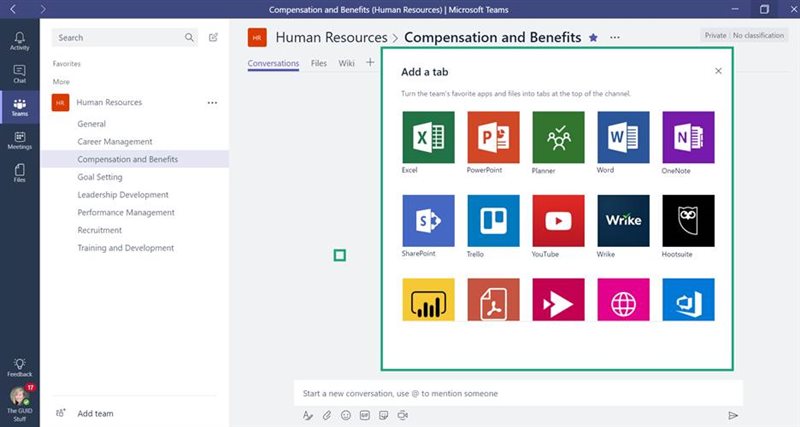 Here are some of the apps that can be added: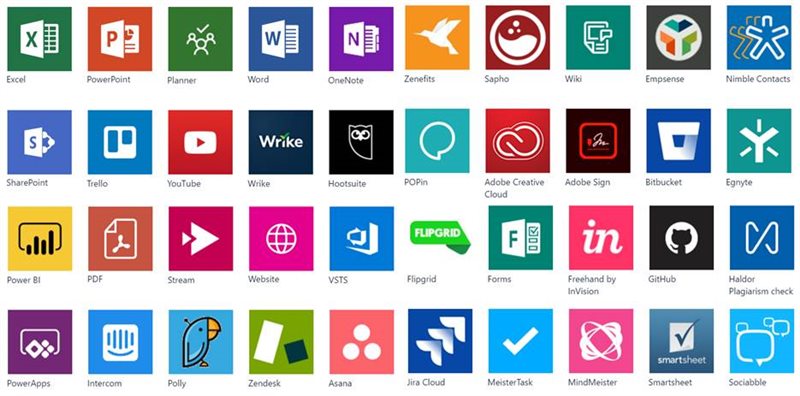 To get your Team started I would suggest the following:
1. Planner
When creating a Team, it creates a Plan linked to the Team. When adding the Planner, select from existing plans, then choose the plan automatically created for the Team. Planner is great for managing tasks and projects related to your Team. Tasks can be assigned to users for which they'll receive notifications.
I prefer using one plan per Team, in which I configure the buckets to be the different channels.

Dashboards for your plans can be found by navigating to https://tasks.office.com/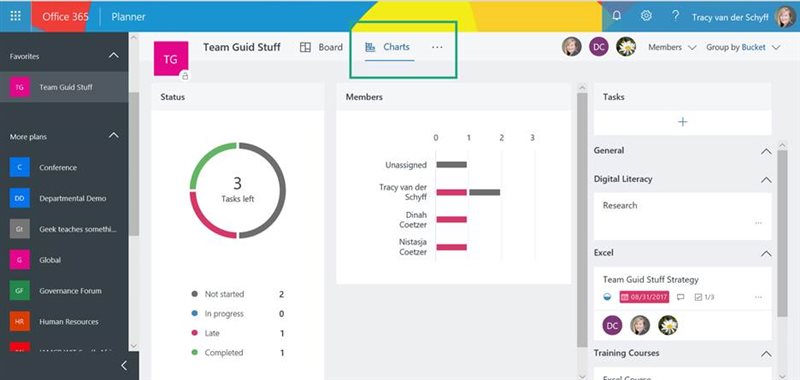 2, OneNote
OneNote is great for managing the minutes of your meetings, brainstorming ideas and documenting processes etc.
Click open in OneNote link to sync the OneNote to your OneNote desktop app. This allows for offline editing and quick access.

3. SharePoint
Add apps from the Team's SharePoint site or other SharePoint sites by supplying the link. When adding libraries with the SharePoint App it will display the "All Items" view without metadata columns. This is great for libraries which use folders.
If you wish to add a tab which displays a library / list with metadata from SharePoint, do so by adding a website.
4. Website
Here you can add links to any websites you might use. I use these to add links to my company's Intranet, as well as to specific views of libraries and lists on SharePoint: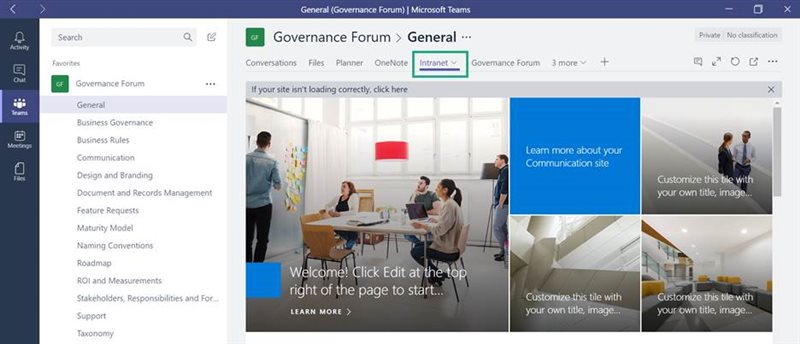 Copy the link to the specific view you would like to use on SharePoint and add it under websites. This displays the full page in SharePoint, as well as the ellipses for managing properties of the items. Use website to also add tabs to other external websites you might use:

5. Power BI
This displays reports from Power BI by adding the report as a tab: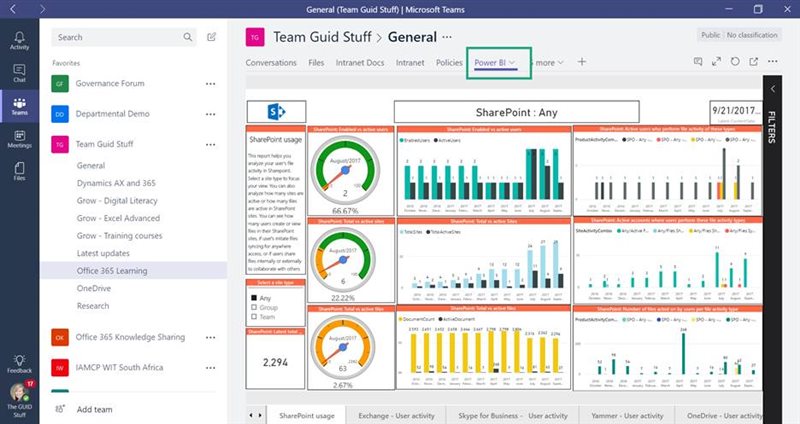 Conclusion
Each Team creates a SharePoint Site Collection and Office 365 Group in the background. Just because it's easy to create, does not mean you should spend less time planning it. Start with a basic Team environment and experiment with the different tabs and channels. Watch the videos supplied and go through the FAQ's, and once you've made sense of it all continue creating the rest of your Teams. If you don't, you'll end up with many unnecessary Teams created out of excitement, which will just add to the chaos in your life.
Don't forget to check part 2 of this blog series, "How to Customize Microsoft Teams: Putting the Team Back in Teamwork". And even more importantly, that your have the right strategy in place when it comes to Microsoft Teams Security.
See below resources to stay in the know!

What's new in Microsoft Teams
Office 365 Roadmap – Teams