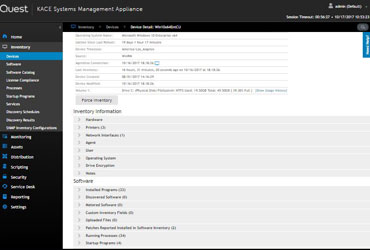 The K1000 Express is an inventory-focused software solution designed for systems that run Microsoft Windows®, including laptops, desktops, servers, and tablets. Available as a software-only virtual appliance, K1000 Express capabilities include:
Device discovery and inventory of all hardware and software network-wide.
Patch discovery and inventory for installed Windows operating systems and applications.
Basic reporting capabilities and real time management dashboards.
The ability to download and install Dell™ driver and BIOS updates.
Reporting and management of Dell™ system warranties.
The K1000 Express software, which is roughly 2.5GB in size, can be used to manage up to 1,000 devices, or nodes, for up to 1 year. The product is supported by a self help community on ITNinja.com.