Join Us as a Quest Data Protection Managed Service Provider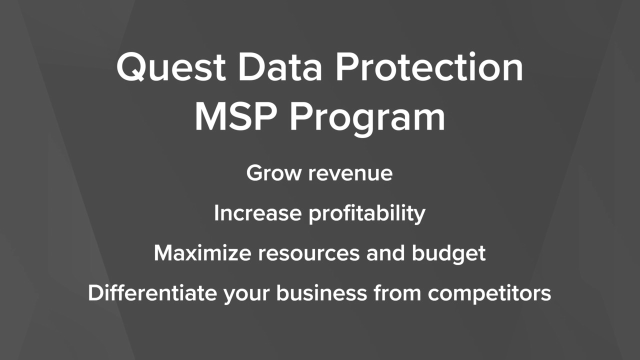 02:03
The market for data protection and recovery is projected to reach more than $14 billion by 2025. One of the fastest ways to expand your offerings and tap into this expanding market is through the Quest Managed Service Provider (MSP) program, part of the Quest Partner Circle Program. Our cloud-ready software solutions help you deliver a wide range of MSP data protection offerings for customers of all sizes, helping you to grow your services revenue and increase profitability.
As a Quest data protection MSP, you'll not only save your customers time and increase your overall market share, but you'll also boost your profit margins and become your customers' go-to strategic business partner.
Join the growing community of MSP increasing their margins with QoreStor. Find out about our amazing 90% Savings Guarantee offer here.