Hi all, The Foglight consulting team have been working hard on this cartridge, and we are pleased to release the latest version of the Alarms Analysis Cartridge. Thanks to Bart van Knijff and Thomas Bryant for their work on this version!
As a reminder, this cartridge can be used to help you analyse the alarms in your Foglight environment, so that you can more proactively manage your alerts, thresholds, and monitored systems.
When using the latest Foglight version, this cartridge has been implemented. Open the the Alarms dashboard and select the "Alarms Analysis" tab: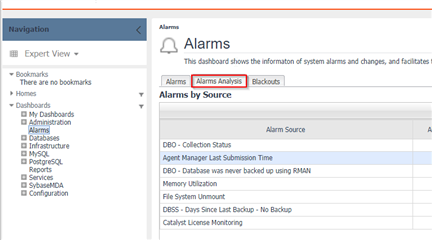 When using an early 5.7.x version or lower, follow the steps below:
An Alarm Analysis Dashboard
Assists in showing the top alarms (i.e. issues) in your environment. This dashboard is also helpful to identify candidates for rule tuning.
An Alarm Analysis Report
Provides a PDF report on what is shown in the Alarm Analysis dashboard (i.e. top alarms)


Two DISABLED rules: Both rules are schedule driven - Beginning of the day, which is default: 00:00 every day
AlarmClearAfterDays - Clear all NOT FATAL alarms older than 7 days
AlarmDeleteAfterDays - Delete all NOT FATAL older than 90 days
Two Registry Variables to control the 7 and 90


AlarmClearAfterDays = 7


AlarmDeleteAfterDays = 90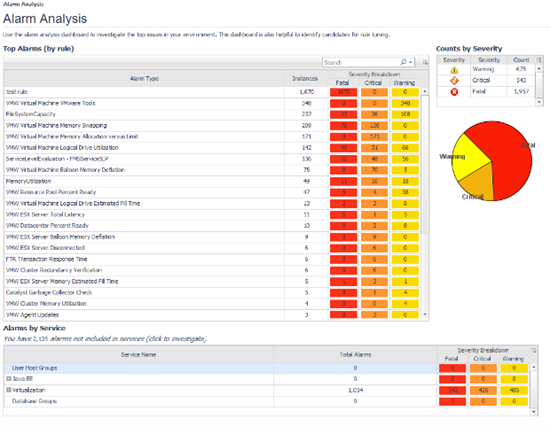 Note that only version 1.0.1 of this cartridge currently works on Foglight 5.5.8, and is provided here for users that have not yet upgraded.
This customization is offered on an as-is basis with no implicit or explicit support as outlined in the Quest Support Policy for Customisation. If you have any problems or questions about this customization, please post below and we will do our best to assist further.
See attachments: