Moving 1,100 mailboxes and 2TB of data with 100% accuracy
Imagine you're responsible for an upcoming Exchange migration.
You have the mailboxes of more than a thousand coworkers staring you in the face.
Those mailboxes are shouting, "Get me off of Notes and onto Office 365!"
Migration starts after work on Friday and must be completed successfully before work on Monday.
All of your coworkers know the location of your desk, your email address and your cell phone number. Many of them also know where you live.
You know that a smooth migration may not win you any friends, but a botched one will surely lose you a few. More than a few, really.
You need hundreds of things to go right on the first try. When was the last time you were that lucky?
How did Coca-Cola Bottling Company United, Inc. (CCBCU) do it?
Our customer CCBCU faced a similar migration project. They needed to migrate 1,100 mailboxes and more than 2TB of data in distribution lists, mail-in databases, resources and contacts from IBM® Notes® to Microsoft Office 365 without data loss or disruption.
Using ZeroIMPACT tools from Quest, not only did they pull off a successful migration with 100 percent accuracy, but they also accomplished it in a single weekend. Before CCBCU employees left on Friday afternoon, they were using Notes; when they started work the following Monday, they were using Office 365.
CCBCU had been running IBM Notes and Domino, along with Notes applications. They needed to migrate to Office 365 to collaborate with more than 250,000 contacts in the Coca-Cola family worldwide. It was also important for them to maintain coexistence with Notes applications, Blackberry support in the cloud and Microsoft Lync migration from IBM Sametime.
CCBCU engaged InfraScience, a Microsoft Gold Certified Partner, who used three ZeroIMPACT tools from Quest on the project.
InfraScience started with Migrator for Notes to Exchange to move Notes email, calendars, tasks and personal address books to Office 365. The Notes migration tool includes a status reporting utility that gave administrators a clear view of the progress of migration throughout the project.
Since some users would still be on Notes after others had migrated to Exchange, InfraScience also used Coexistence Manager for Notes to ensure CCBCU employees could collaborate and schedule meetings with one another, no matter where their mailboxes resided.
InfraScience used MessageStats to assemble a pre-migration overview of CCBCU's entire messaging infrastructure, to plan for server capacity and to take inventory of the current and new environments.
Under the hood – Migrator for Notes to Exchange/Office 365
You know that feeling of having one foot in the boat and one on the dock? Imagine feeling that while you're juggling hundreds of mailboxes during a migration.
I want to go into some of the considerations around provisioning and throttling when migrating from Notes to Office 365.
How do I provision Office 365?
Migrator for Notes to Exchange (MNE) supports migration from Notes to Microsoft Office 365 with two types of provisioning (as shown in the diagram):
From an existing local Active Directory (already synchronized to the local Domino directory) to Office 365
By MNE directly from the Domino directory to Office 365
In the first case, if your organization already has a local Active Directory (AD) running for login and security, Microsoft's DirSync tool can provision from the local AD up to Office 365. If not, many admins find it easiest to first use MNE and Coexistence Manager for Notes (CMN) to provision a local, "staging" AD, then use DirSync to provision Office 365, as shown by the light blue arrow in the diagram.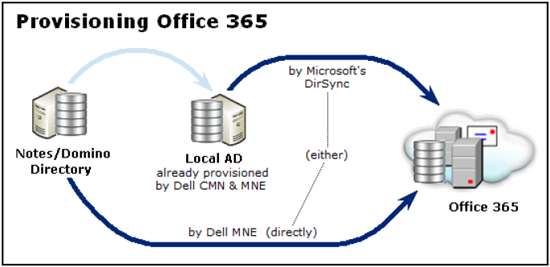 [CAPTION: Provisioning with MNE and CMN from a local AD]
You provision the local AD the same way whether your ultimate destination is the local AD or Office 365 (to be provisioned from the local AD).
Provisioning Office 365 from a local AD opens up the possibilities of single sign-on (SSO) and identity federation, so your users can access Office 365 services with the same corporate credentials (user name and password) they use for the local AD.
How can I get around throttling?
As if you didn't have enough to think about, you need to take throughput and throttling into account on an Office 365 migration project.
Migration to Office 365 transports data over the Internet, which can result in inconsistent throughput. Also, Microsoft throttles data in Office 365 when any account (including migration admin accounts) initiates more than two concurrent data streams. Each migration thread in MNE counts as one data stream, so Microsoft's throttling can affect performance drastically when you use more than two or three parallel migration threads in a single account.
The best way to get around this is to use MNE's Account Pooling Utility and run a pooled collection of Office 365 admin accounts simultaneously on separate machines. The utility makes it easier to coordinate the pooled admin accounts and multiply the throttled throughput rate by the number of accounts in the pool. MNE also has settings to manage PowerShell throttling, another type of throttling that can affect migration throughput dramatically.
Some customers run only two to four migration threads per MNE server, while others report optimal throughput running eight to twelve threads on each migration server. MNE's Account Pooling Utility bypasses any user-level throttling to provide optimal throughput to Office 365, but cumulative throughput depends on a variety of factors like hardware and available bandwidth. For an accurate estimate of net throughput, you should run comparative test migrations in your own environment.
Next steps
Coca-Cola Bottling Co. United managed their migration from Notes to Exchange and got things right on the first try. With the same tools, you can too.
For more of the business story behind the CCBCU migration, watch the video case study.