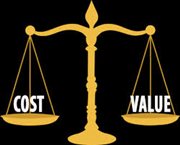 For the last 8 months I've focused most of my customer facing efforts on Foglight accounts that use Foglight for Enterprise System Monitoring. I engaged these accounts in the acting role of Customer Success Manager and have been active on a weekly basis in that role for many of these accounts. The Enterprise classification simply means that a firm monitors one or more technologies, on more than 100 and up to tens-of-thousands of servers. One of the most basic things I've learned or validated is that Enterprises are evaluating System Monitoring solutions like Foglight, in the same way that they would evaluate any other business application. At a high level initial evaluations and re-evaluations that happen at renewal time, are based on value versus cost. The goal simply stated, is to get a disproportionate amount of value for what is being spent on application deployments and maintenance.
One way to look at the value of an application is to consider the number of beneficiaries and the value per beneficiary. These beneficiaries can be internal users such as employees, business partners, customers, and in some cases even other applications. For this conversation I felt it best to divide the value of an application down into 3 areas:
Individual value * individual count – Applications help individuals do things that they couldn't otherwise do or provides a more effective solution to something they do now.
Team value * team count - Applications help teams to work better within their team and/or work better with other teams, likely through some sort of collaboration feature set.
Organizational value - Applications change the way businesses run and they bring value by making them run better, one of the latest trends is to exploit data better than others.
During these engagement I've been noticing that Enterprise Customers are frequently looking at these usage patterns as a way to gauge value. This is not only the case for initial evaluations, but is also holds true as customers look to get more value from what they already own, or when they assess what they are getting versus what they originally hoped to get from their application purchase.
The second part of the overall value equation is the cost of an application. Getting value is a good start but the true value of an application is derived from the sum of the overall value as compared to the sum of the overall cost. For the purpose of this discussion I've also broken out the application cost considerations into 3 different areas:
Acquisition costs - Hardware and software needed to bring the system(s) online so that they are fully functional
Implementation costs - Configuration work, training needed to empower the end users, and evangelism to bring the beneficiaries of the application on-board
Maintenance and Support Costs - Ongoing activities of keeping the application infrastructure healthy, and managing day to day activities
We've been evaluating Foglight with this application value to cost breakdown in mind and searching for opportunities to increase value and reduce costs specifically for our Enterprise Customer segment. Beyond the value that comes from breath of coverage and the addition new technology monitors, we wanted to take a hard look at what the Foglight Enterprise users are doing and also what the Foglight Enterprise maintainers are doing. Increasing the value of Foglight for Enterprises will come from expanding the user base and providing that base with more useful and actionable information. Part of this may be to make it easier for end users to get information specific to their role and environment,easier and faster they they do now. Decreasing cost will come from making day-to-day tasks of the maintainers or Foglight Administrators, easier and less costly. Improvements in this area will come from product enhancements, knowledge sharing among Foglight Enterprise customers, and working better with infrastructure management echo systems. One commonly asked for example of this, is to document how Foglight can be used with automation tools like Puppet and Chef.
Building a solution to manage and gather information from hundreds or thousands of systems has distinct advantages and unique challenges. By breaking out these advantages and challenges specifically for the Foglight Enterprise segment in terms of the value delivered to the user base, and the costs, we can focus more on the Enterprise customers that are quickly becoming the majority of the Foglight user base.