Have you ever needed to know exactly what access a particular account has to resources (files, folders and shares) in your company? Maybe someone has left and you want to ensure all access has been removed for that one account. Maybe you have a new account that needs to have similar access to another account. Maybe there has been a security issue (incorrect access to a resource) and you want to find how it happened. There are a lot of reasons why you might need to understand who has been given access in order to effectively manage your resources and ensure they are secured in the correct manner.
In addition to the NTFS collections (discoveries) in Enterprise Reporter, in version 2.0, we have introduced a new user-centric view called Access Explorer.
Access Explorer allows you to easily identify who has been given access to resources with a user-centric, interactive view – the Explore tab in the Report Manager. Using the Explore tab, you can quickly see who has access to specific resources and the explicit permissions associated with those resources. It's a great way to answer your questions quickly - without having to wait for a long report to generate.
In addition, different than a discovery collection, an agent service is used to monitor the resources on a particular computer (or managed computer). This agent service is constantly scanning (based on your set schedule) for changes to access of resources and facilitates access being identified quickly when needed.
So how do you use this?
It's simple.
In the Report Manager, click the Explore tab.
Click the Home tab named "Accounts".
Add the domain account or local account for which you want to see access.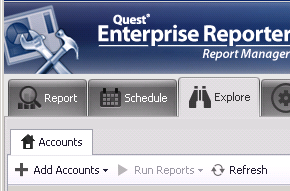 Once the account has been added, you can…
drill down into the account to display computers to which that account has access.
drill down further on a single computer to see how, through group membership, that account was permissioned.
drill down even further to see all the resources that account has access to and full details on the explicit permissions.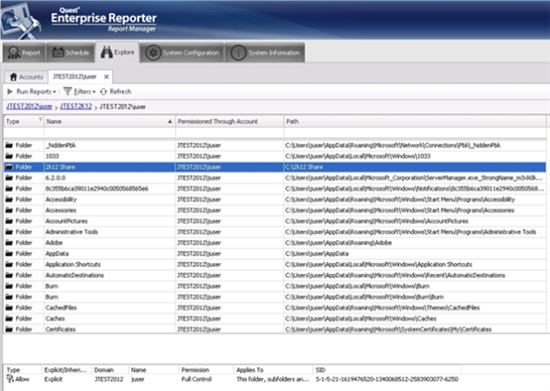 Pretty cool, eh? (Did you know that the development team is from Canada?)
Need a report on this to quickly send to your boss? Well, our product is called Enterprise Reporter, so, of course, at any point of this interactive view, you can build a report. There are permission and summary reports available.
For more information on Access Explorer, please read our fabulous documentation. You will need to setup all of the managed computers, but once the initial setup is complete, your Explore tab should be ready for all of the exploring you need to do. Have fun!
Stay tuned for further blog posts on configuring Access Explorer!