$50,000 per hour. Up to $500,000 per hour.
I wish that were a salary range, but it's not. That's an estimate by IT pros like you of how much money Active Directory downtime costs their company. Almost two thirds of them in companies with 2,000-5,000 employees estimate the cost of downtime from AD incidents and disasters at $50,000-500,000 PER HOUR.
Think about that the next time you're trying to rescue your corrupted AD or undo accidental changes to it. Every hour your team members spend on it could cost as much as all of their annual pay in lost time, productivity, communication and business.
Better yet, think about it BEFORE the next time you have to go through another AD disaster recovery, while you can still do something about it.
Active Directory disaster – Let me count the ways
AD disasters happen in a lot of different ways, and I can't think of a single one of them that's pretty. They happen to more IT administrators than you might think.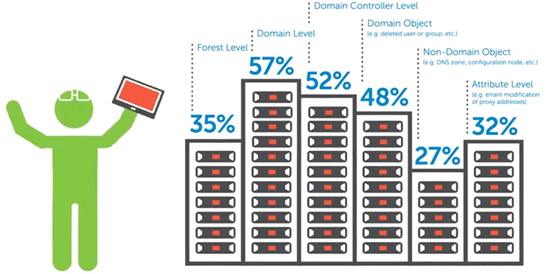 CAPTION: "Active Directory incidents reported by IT professionals – by the numbers"
We've published "Active Directory Recovery: A Survey of Microsoft Active Directory Users," the results of research conducted for us by Dimensional Research. Here are a few highlights:
Accidental changes/deletions to AD worry 75% of your colleagues. Have a look at page 13 to see the other kinds of AD disasters that worry them.

Almost 9 out of 10 of them report incidents or disasters with AD (page 8).

More than half of incidents occur at the domain level (page 8).

Most (59%) do not have a robust disaster recovery plan for AD (page 14).

Two thirds hesitate to make changes like schema or application upgrades to applications that use AD because they have no valid test environment (page 18), and most of them say it's too hard to set up a test environment for AD recovery (page 16).

And that cost of downtime I mentioned above? About 22% of respondents estimated theirs at more than $1 million per hour (page 19).
So if you worry about your next AD disaster, you're not alone.
The virtual lab for the AD forest
But there is hope. Four out of five IT pros responded that, if they could easily create a virtual lab that accurately mirrored their production AD forest, they could test their disaster recovery plan more efficiently.
We know a market need when we see one. Recovery Manager for Active Directory Forest Edition is our solution for saving your bacon by quickly recovering an entire domain or AD forest in the event of a major disaster or AD corruption. It won a People's Choice Stevie Award for Favorite New Systems Management Product this year.
And now, you can use it to automate the creation of a virtual lab for testing your AD disaster recovery plan. With a lab populated with production data, you can test disaster and recovery scenarios safely before making changes to your production domain or forest.
Recovery Manager for Active Directory Forest Edition is the best way to ensure that your IT administrators are prepared to recover from AD disaster. It's three birds with one stone: schedule and manage your AD backups, test your recovery plan and recover from an AD disaster
Next steps
So, do you want to think about $50,000-500,000 (or $1 million) per hour in downtime, or would you rather think about how smart you were to have a reliable backup and a disaster recovery plan that was tested in a lab populated with production data?